If you have a Stone Fireplace like this Limestone Fireplace at a house in New Romney, you will no doubt be very careful what you place on it in case it becomes stained. Water ring marks are an obvious problem, and you probably find yourself rushing for a coaster when a guest puts a glass on it.
If can relate to that you will sympathise with my customer who being a divorcee faces a similar issue with his children when they come to stay every other weekend. Naturally, he loves having them over, but you can imagine his despair when fruit juices and mucky fingers came into contact with his Limestone fireplace. After several attempts cleaning the fireplace himself he gave up trying and called Tile Doctor instead.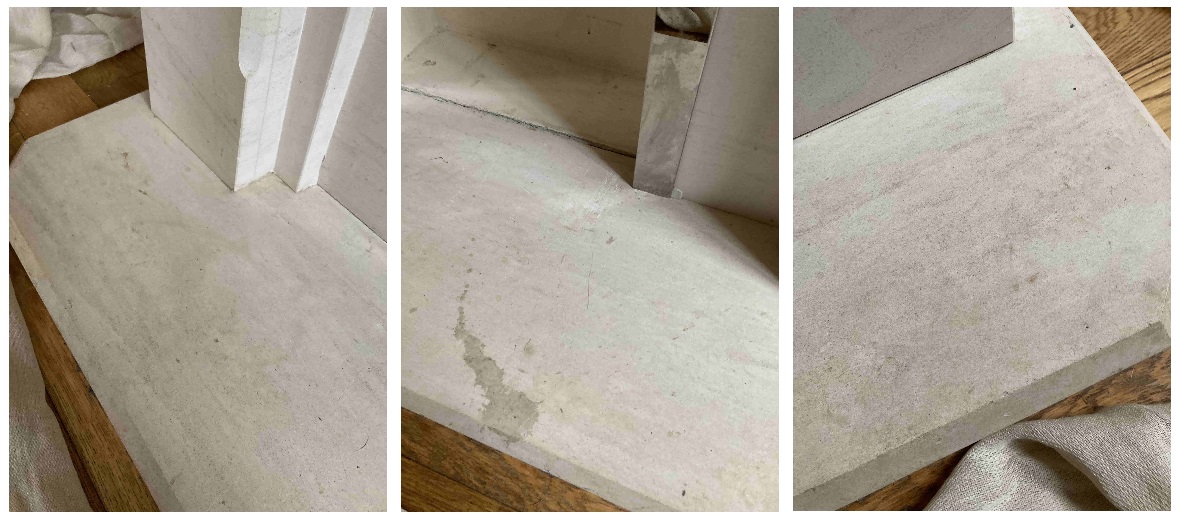 Deep Cleaning a Limestone Fireplace
After protecting the wooden floor from splashing I set about cleaning the Fireplace and removing the staining using Tile Doctor Oxy-Gel. Being a Gel this stone cleaner sticks well to vertical surfaces allowing for longer dwell times which allow it to dissolve stains and dirt that get trapped in the pores of the stone.
That may sound straightforward but in fact it took several attempts and three hours of hard work and elbow grease to scrub the Limestone clean at the same time careful rinsing with water extracting the resultant soil as I went.
Sealing a Limestone Fireplace
After cleaning and drying the fireplace with a hot air gun I set about applying a sealer to protect it from future grubby fingers. For this I used Tile Doctor Ultra-Seal which is an impregnating sealer that works by soaking into the stone occupying the pores thereby protecting it from within. This product is an invisible sealer that does not change the colour of the stone leaving it with a very natural appearance.
As you can see the Limestone Fireplace looked new again after my visit much to my customers relief. The sealer will make it much easier to clean the stone, the benefit of which will definitely become apparent the next time the kids pay their dad a visit!
Source: Limestone Cleaning and Stain Removal Service in South Kent