This patio, at a house in Windermere was made of fantastic Green Indian Limestone that despite sounding exotic is widely available in tile shops and building yards. But while it is a very good quality stone, it doesn't always make for a good patio tile. Tiled patios are rarely easy to keep clean, especially if they are made of a sensitive stone, like Limestone. Over time, damage from weather and other environmental elements can leave these sorts of patios in really poor shape.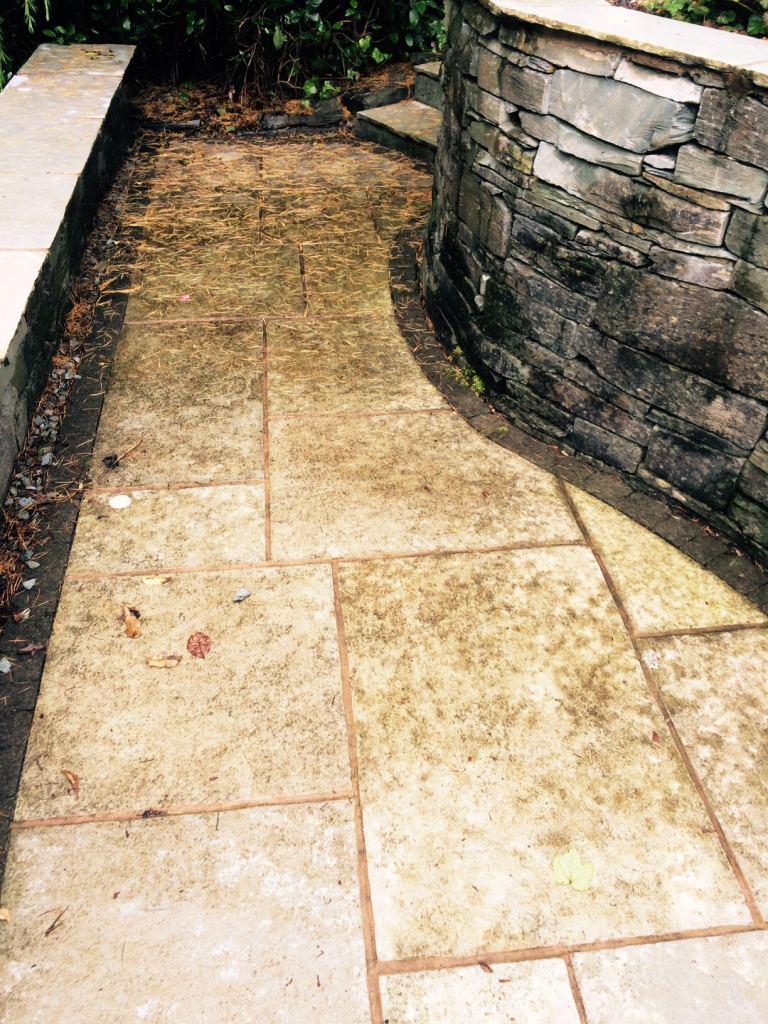 The area at this property was covered in outdoor shrubs and trees, including Rhododendrons, which are prone to shedding their leaves. The leaves had intermittently fallen onto the acid-sensitive Limestone and, since the leaves are actually slightly acidic, they can leave some quite deep marks. Other trees with can have acidic leaves include Japanese Maples and Azaleas. In this case, fruit berries from Rowan trees had also dropped onto the patio and crushed underfoot, leaving stains they had proven very difficult for the customer to remove.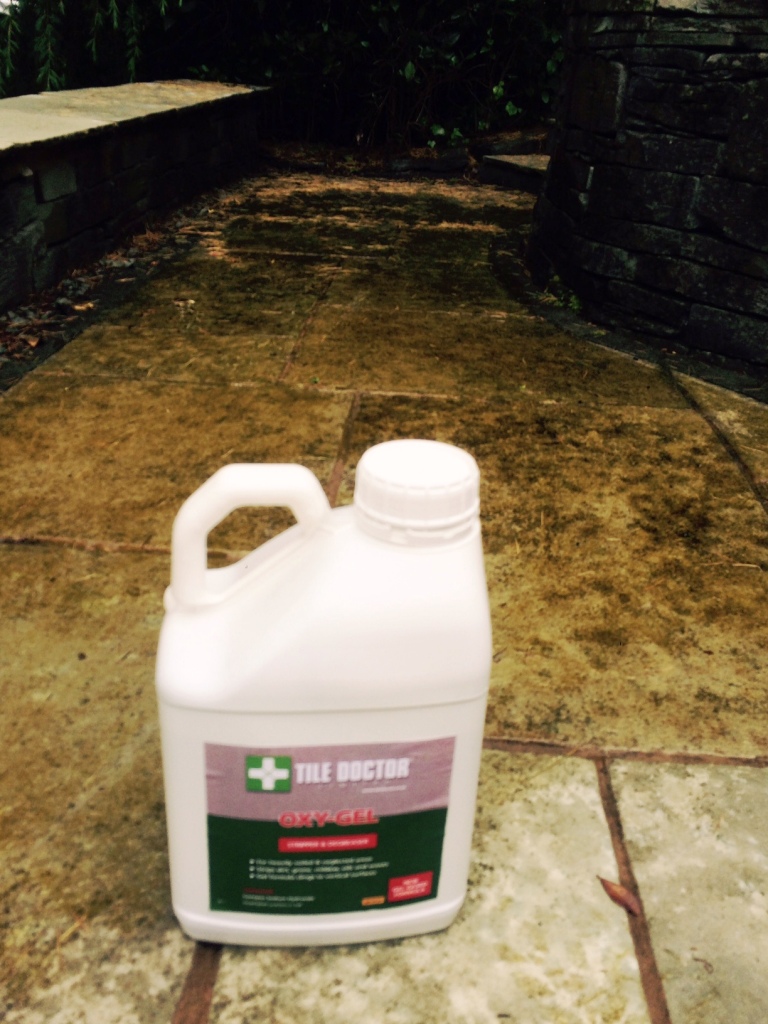 In fact, the customer was at the point of giving up on the patio. Power washing was having limited success, failing to remove the deeply embedded marks left by the leaves and berries, amongst other general wear and tear. Thus the customer decided to turn to Tile Doctor for a professional cleaning service.
Cleaning a Stained Indian Limestone Patio
A year ago, this job would have been a challenge, but Tile Doctor recently bought out a product called Oxy Gel that proved to be an excellent cleaning product in this particular situation. Oxy Gel is a heavily concentrated alkaline cleaner in a gel form so it's easy to handle. I applied this to the Limestone and left it to dwell for about 20-30 minutes to neutralise the acidic staining, before power washing and extracting the waste water.
A certain amount of manual cleaning with a wire brush was required to remove the particularly stubborn marks, including underneath the Rowan trees where the fruit berries were prevalent. As you can see, the problem was quite excessive in these areas, and without the Oxy Gel even we would have found this job too much of a challenge. We also removed the dirty cleaning water containing the remains of the Oxy Gel using a wet vacuum, as this may otherwise have contaminated the garden soil.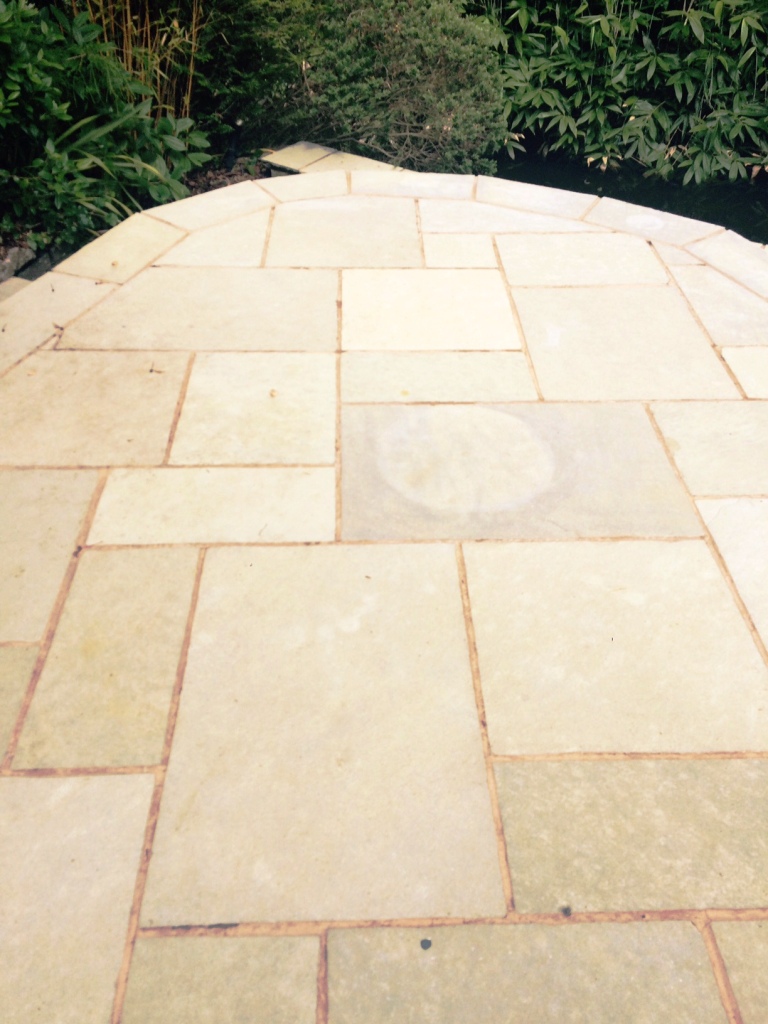 We didn't seal the patio, as we don't recommend sealing outdoor stone (although we will occasionally make an expectation with particularly sensitive Black Limestone). This is because external sealers generally can't cope with exposure to acidic leaves and constant wet weather in the winter. What's more, if the temperature falls below -5 degrees centigrade, the sealer will start to break up and crumble. As I suggested to the customer, it's best to power wash patio tiles twice a year – once in spring and once again in late summer.
The results were absolutely fantastic considering the extent of the environmental damage. While such damages can't always be avoided, this situation proves that with the right cleaning products and techniques, they can be reduced significantly. Needless to say, the customer was very happy with the transformation.


Source: Limestone Tile Cleaning and Polishing Service in Cumbria